The guitarist of Iron maiden, Adrian and Dave know eachother from highschool.
He wrote some of the most remembered songs.
Adrian had another band to, called Urchin. He started in that band from when he was in school, so he wanted to stick with it, but then, a year later he changed his mind and came back to iron maiden
He was born in east London, on 27 february 1957 and the youngest of three children. First a football fan, manchester fan, and then when he bought an album, Deep Purple's "machine head", his posters of football in his room were soon replaced with stuff like Jimi Hendrix and Ritchie Blackmore.
It was Dave who first encouraged Adrian to take up the guitar. Soon the two began to play regularlyand decided to start a band. Adrian was so convinced of his destiny that he left school on his 16.
The band he and Dave formed, Evil Ways, changed into Urchin.
Fortunately for Adrian and his many fans the band he finally hoop up with Dave was iron maiden
When he left the band, in 1990, he said: " It felt strange not being in the band anymore. It had become a way of life for me and I realised how much maiden will always be a part of me, and how much I missed it."
Adrian left the band to pursue a solocareer.
Adrian smith

---
Dave murray,the guitarist with a gibson SG is almost unrecognisable from the rock star we know him from.Dave Murray possesses a quality so rare in rock star circles as to be almost non existent, humbleness.
Dave murray:"It's my upbringing not wanting to make a big thing of it, when you start out with nothing, you don't expect much from life. For all this to happen to me, well, it's like a dream, really"
Dave Michael Murray was born in 1956, december 23, Edmunton in London.
Like Steve Harris, who had been born the same year, Dave was a fanatical football player and fan. But his family was poor, his father was disabled and his mother worked part and they never really settled anywhere long enough for Dave to establish in any of the school teams.
By his reckoning, he had been to much schools by the time he left for good at the age of 15.
The first thing he did when he made some money was buy his folks a house. Dave's hard upbringing also helped him ride the highs and lows of his career.
Dave first got interested in rock music when he was 15. When he heard Voodoo chile on the radio, Jimi Hendrix, everything changed. He could be a skinhead up until then.
Dave:" But i just ditched the Doc Martins and i got myself an old afghan coat and became a hippy man"
He also got himself a guitar and started practicing every night
His first band, a school trio called Stone Free, was actually with future fellow guitarist, Adrian Smith, who lived a few streets away.
From there Dave had joined in a number of bands before meeting Steve Harris and joining iron maiden for the first time in 1976. Dave was actually sacked a few months later, Dave rejoined Adrian in Urchin, where they recorded 1 songle, black leather jacket and then rejoined iron maiden.
Dave has some great solos, like, example, on "the phantom of the opera" and "lightning strikes twice"
Dave Murray:"I'm just lucky, lucky that i found such a great band to play in, and lucky to have such great fans that are into what we're doing

But that's Dave Murray, humble and about the greatest guitarist that you'll get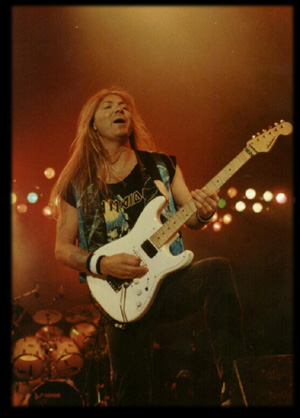 Dave Murray

---
He joined the band in 1983, in time to record the "piece of mind" album, wich is one of the best iron maiden albums.
The "mad mcbrain" as he is known for some iron maiden fans, has almost the same presence as Eddie.
His first love for music came from his father from his love of trad - jazz. Little nicko's hero was Joe Mortella, the late great drummer from the Dave brubeck jazz band
Nicko:"I used to pretend I was Joe Mortella hitting the the tubs. I'd go into the kitchen and pick up a pair of knifes and start hitting the gas cooker."
Nicko:"Most kids wanted a bicycle or something like that, but all I wanted was drums. When my mum and dad finally got me one it was all my birthday's and christmases rolled into one."
By the time he left school at 15 he was allready a veteran of several pub groups. On the recommendation of another drummer he knew he began to take on session work, playiong on countless different recordings.
his first "proper" band was "the 18th fairfield park", who did covers of Otis redding and Beatlles tunes. Then he
joined the wells street blues band. But again, they never got beyond the clubs and Nicko found himself meandering from gig to gig , playing with now barely remembered names like singer and keyboardist Billy Day.
It was until 1975 when he joined streetwalkers, the band formed by ex - family members, vocalist Roger Chapman and guitarist Charlie Whitney, that Nicko first found any sort of fame.
Unfortunately, the Streetwalkers was designed to be one of the great also -rand of the seventies: good albums, no hits. From then until he joined Iron maiden.
Nicko:"One minute i'm up and i'm Mr party all night. Then the next minute i'm down and i'm Mr grumpy. But that's just the way it is. Maybe i need to do that sometimes to get myself psyched up for a gig. Cause believe me, the way I play the way this whole band plays you better be psyched up for it. Or you'll get left behind."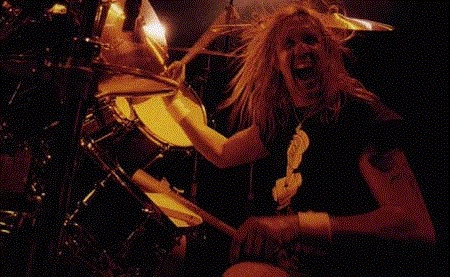 Nicko mcbrain

---
maiden had allready released two top 10 albums when Bruce replaced original singer Paul Di'Anno. Many Iron maiden fans wondered at the time, or the band had done the right thing in allowing the more theatrical former samson singer to take over from Di'anno.
After they made a few great songs like "run to the hills" and later "fear of the dark", Bruce is now rightly regarded as the definitive Iron Maiden vocalist.
Paul Bruce Dickinson was born in nothinghamshire on august 7 1958. He rather wants to be called with his second name Bruce then his first name Paul. His mum worked in a shoe shop, and his dad was a mechanic in the army.
He was send to boarding school from a very young age made him very independent and selfsufficient, qualities that would hold him in a good stead later when it came to dealing with the perils of a 20 - year career in the notoriously fickle music business. The first record he managed to persuade his folks to buy him was the single "She loves you" by The beatles.
Bruce:"I was still only 4 or 5 but I really loved that whole Mersey scene. I loved The" Beatles and The pacemakers and used to try and collect all their singles. Then I noticed they had B - sides and that sometimes I liked them even more then the A - sides. And that was when I first began noticing the difference between "good" music and "bad". I didn't know it at the time. But that was the first time i began to think like a musician."

It was at boarding school as a teenager that he first began to get seriously into albums. Soon his burgeoning record collection boasted albums by artists like Van Der Graaf Generator, Arthur brown, Jethro Tull, and Emerson Lake and Palmer
Bruce:"I don't believe in endings. I only believe in new beginnings."
Who else then Bruce was able to sing songs like "seventh son of seventh son" or "rime of the ancient mariner"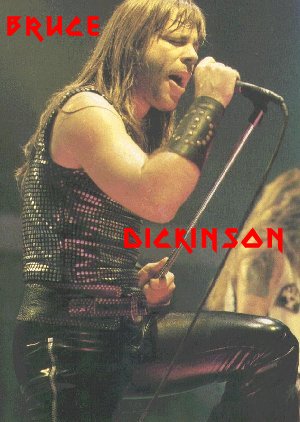 Bruce Dickinson
---

Steve Harris came up with the name Iron Maiden in the seventies.
Steve:"It is weird how it works, people always assume i tell everyone what to do. In fact, it's not like that at all. Yes, I usually come in with a few songs I've written on my own. Because that's the way I've always worked. But I always try and encourage everybody else to come up with stuff, too. It would be to samey if everything was written by one man all the time. And having people there in the past like Paul and Bruce and Adrian, it all helped take the band in slightly different directions and we did some really good stuff together.
After the heavily tatooed arms and the no bullshit attitude, lies a far more mature and suprisingly sensitive then the might think, a musicfan that cares more about the inegrity of iron maiden and the relationship with the fans than with commercial gain
Steve:"I've never written a song in my life for the suits in the boardroom, unlike some bands we could all mention.
maiden's never been about that. And that's why, i think, the fans have stayed with us over the years.
They know we really mean it when we say we're an album band, a live band. Hit singles don't matter to us. Never did. It's always been the music that comes first."
Steve and maiden fought there way up by playing in pubs and clubs and later, mid eighties, they became the biggest rock band in the world.
Steve:"Where i come from it was dog eat dog, I was brought to believe you had to fight for what you wanted out of life."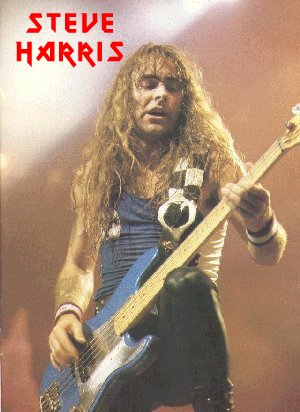 ---
He joined the band in 1990 as Adrian Smith his replacement. Janick war born in 1957, january 27, in Hartlepool. His father had been in the polish navy, but then settled in England after meeting his mother and later joined the British royal navy. Swimming, football and music were Janick's interests as a kid. It wasn't until he was in his teens that he began to take serious interest in guitar.
Janick:"I started out wanting be John Lennon, then, once i got into the guitar properly, I decided I 'd rather be Ritchie Blackmore."
He was 18 when he bought his first white gibson fender stratocaster, a guitar he still uses now.
Janick:"I got it second - hand from a guy in Darlington for 2 hundred quid and i remember thinking, wow, this is fucking it."
It was 1970 and his favourite bands were Deep Purple, Rory Gallagher and T - Rex but Ritchie Blackmore was his favourite.
His first serious band was a local Hartlepool outfit called White spirit. He joined in 1975
Janick:"It was a big deal for us up in the north easth, but it meant nothing anywhere else. I was just happy to have a record out with my playing on it but we were all still on the dole."
Later signed to a major deal by mca, their debut album White Spirit was released, ironically, the same year, in 1980, that maiden released their self - titled debut.
When white spirit supported Gillan on tour that year, Janick got to meet one of his life long heroes, former purple singer, Ian Gillan.
Janick:"It was like getting to meet Father christmas when you're a kid."
A few months later he was invited to actually join Gillan. A shorrt lifed but highly productive period in wich janick played on two of Gillan's finest albums, the live Double trouble and Magic. When Gillan decided after that to break up the band, Janick was philosophical.
Janick:"I was disappointed but i thought, well, this gives me the chance to do something different.
Janick:"I'd know Bruce from since he was in Samson. Ha wanted to do something outside Maiden and i fitted the bill. Then when he called me up one day and asked if i'd rehearse some Maiden numbers, I was suprised. I said what for? he said, Adrian's left the band and we need somebody to fill in. Are you interested? I was so flabbergasted, i didn't know what to say."
Janick joined too late to take part at writing the No prayer for the dying album, he did had 1 song on there that would become one of their most notorious songs ever, the delightfull disrespectfull Bring Your Father To The Slaughter
Janick Gerst